Store Information
CAV Thrift Store
We are excited to announce the Thrift Store will be open to shop Monday through Friday from 10am - 6pm beginning on Monday, June 15, 2020.
Donations will be accepted Monday through Saturday from 10am - 6pm.
Safety precautions to help prevent the spread of COVID-19 will still be in place.
We look forward to seeing you!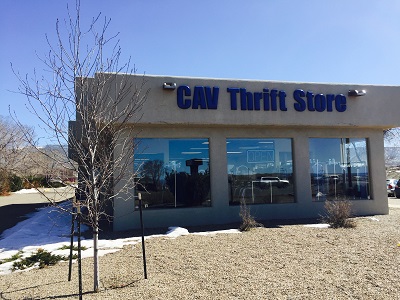 Address: 1103 Paseo del Pueblo Sur, Taos, NM 87571 (click here for Google map directions)
Phone: (575) 751-4824 (please call if you have questions about donating!)
Visit the CAV Thrift Store Facebook page for updates!
CAV Thrift Store accepts tax-deductible donations of gently used household items, furniture, small appliances, books, jewelry, and clothing.

Donated items go to CAV clients or are sold to help fund CAV services for survivors of domestic/sexual violence.
Home of Cows Against Violence Merchandise!

Visit the CAV Thrift store to buy your unique Cows Against Violence t-shirts (long, short and baseball-sleeved), coffee mugs, hoodie sweatshirts, baseball caps, magnets and more... Proceeds go towards supporting CAV services!
Call (575) 751-4824 if you have questions about what is in stock. (Online store is in progress!)
Monday:

- Friday: Staff's choice!
First Saturday of each month:

Storewide 1/2-off all items *except Cow merchandise and some jewelry